Insulated Concrete Forms Explained

Insulated Concrete Forms (ICFs) are forms for cast-in-place, reinforced concrete walls. The forms are left in place permanently to serve as thermal & acoustic insulation, space to run electrical wiring & plumbing, and as backing for gypsum boards on the inside and stucco, brick, or other siding on the outside.

The forms are usually made of foam insulation and are either

separate panels that are connected with plastic ties or

pre-formed interlocking blocks

Different ICF systems also vary in the shape of the resulting concrete within the wall:

"Flat" systems form even thickness concrete throughout the walls, like a conventionally poured wall.

"Grid" systems create a waffle pattern where the concrete is thicker at some points than others.

QUAD-LOCK - The most versatile Insulating Concrete Forming System

Build nearly unlimited wall widths, 3 different insulation values, corners, angles, T-walls, columns, pilasters, brick ledges, and radius walls, using just a few standard components.

Panels made of Expanded Polystyrene (EPS) and Ties made of High Density Polyethylene (HDPE) create a Concrete Form that will accommodate vertical and horizontal Reinforcing Steel as required. Temporary bracing is usually required for vertical and horizontal alignment only. Filling the cavity with concrete will create solid concrete walls with 2-4 hour Fire Resistance Ratings (FRR). The EPS Forming System will stay in place and turn into the best insulation available today, saving you energy costs for the lifetime of the building.

Five different wall widths are available (nominal concrete widths of 12" [300mm], 10" [250mm], 8" [200mm], 6" [150mm], and 4" [100mm]) and can be combined with the Quad-Lock Extender Tie to add 12" [305mm] to any standard cavity size.

Three insulation values are possible, giving you the choice of true R-Values of 22, 32, and 40 h*ft²*°F/BTU / U-values of 0.28, 0.20, and 0.15 W/(m²*K).

The Quad-Lock System encompasses these components:

Panels made of EPS, available in 2 thicknesses (2¼" [57mm] and 4¼" [108mm]) and with optional Fastening Strips

Ties made of High Density Polyethylene (5 standard lengths plus Extender Ties and Brick Ledge Ties)

Corner, Angle, and Window Brackets to eliminate bracing at corners and build bucks or end caps.

Metal Tracks & Wire Top Ties for starting and finishing the wall assembly

These components will allow you to assemble all concrete forming for your walls, including corners, arches, any angles, columns and pilasters, as well as T-Wall connections. Transport and storage costs of Quad-Lock are substantially lower compared to pre-assembled block systems. Ordering and keeping track of inventory is easier (you would need at least 45 different parts to do the same with pre-assembled blocks). The Excel™-based Quad-Lock Estimating program makes it quick and easy to calculate all materials needed for your job and the cost.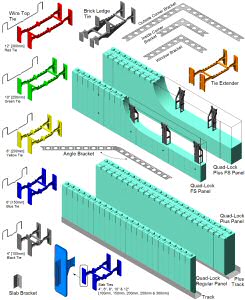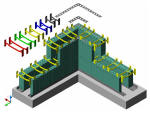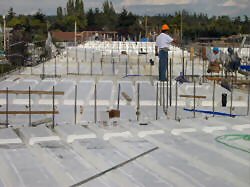 Tristar Developments LLC - Authorized dealer of Quad-lock products in the US Virgin Islands

Copyright © 2005-2014 Tristar Developments LLC.  All rights reserved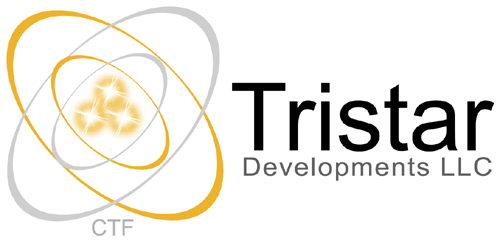 Developing Tomorrow Today with innovative tools and services.